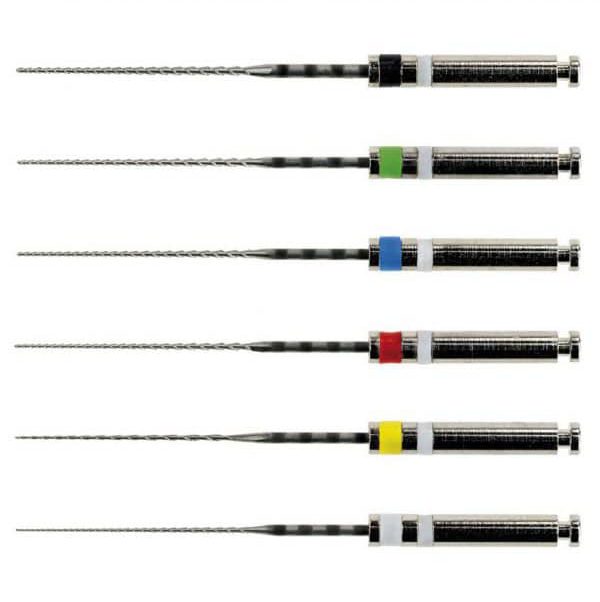 Endostar NT2 NiTi Two Rotary System
Economical nickel-titanium file system for simple and fast mechanical processing of root canals.
Endostar NT2 NiTi Two Rotary System is an economical nickel-titanium file system for simple and fast mechanical processing of root canals, mainly with the traditional method. The system consists of 6 files. It is characterized by a constant 02 taper and a non-cutting tip. The set is most commonly used as an extension of the Endostar E3 Azure files.
Very flexible
Non-cutting tip
2 cutting edges angled 90°
Constant 02 taper
Recommended number of use:
Maximum of 5 times, provided that visual inspection performed by the practitioner prior to use shows that the instrument remains undamaged, is not bent, deformed, does not show signs of blade wear, and can be securely attached to the handpiece. If the file has been subjected to high torsion force, especially in highly curved canals, the instrument should be used only once.
Files should be used with motor speed between 150 and 300 rpm.
The torque settings indicated in the table above table are for example only and may vary according to each user preferences and motor capabilities. Do not exceed the upper torque limit which is different for each instrument. If precise torque settings cannot be set, and only manufacturer-specific torque levels are available, be sure to select one that does not exceed the recommended limit.
Clinical instruction for use
Rinse the canal each time after the file is used. Clean the files of any debris repeatedly.
Prepare the cavity. Use a rubber dam.
Locate all canal orifices. Fill the canal orifice with a lubricant.
Specify the working length of the canal with your method of choice.
Make sure all canals are patent up to a depth of 2-3mm from the apex with the help of the K15 file. For very curved and narrow canals, use a different hand instrument, size 06, 08, or 10.
Create access to the canal orifice using rotary files with a greater taper (06, 08) or with the use of Gates-Glidden drills.
Start working with the 02/15 or 02/20 file until you reach the full working length and then switch to other instruments (02/25, 02/30, etc) until you reach the desired canal size.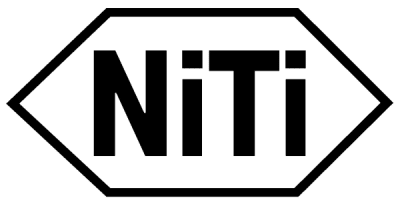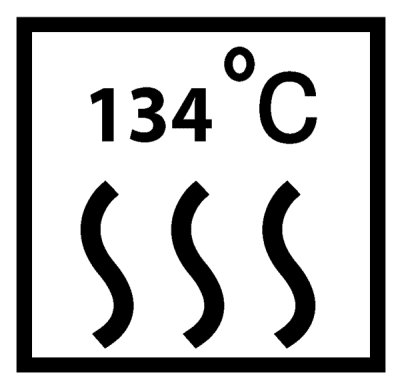 Sterilization
Autoclave in 134 degrees. Recommended sterilization time: 3 minutes at 2.1 bar overpressure.
Instrument
Number of strips
Taper (%)
ISO
Lenght
Endostar NT2 NiTi Two Rotary System
Set, 15/02, 20/02, 25/02, 30/02, 35/02, 40/02, 6 pcs., 23 mm
NT223
Set, 15/02, 20/02, 25/02, 30/02, 35/02, 40/02, 6 pcs., 25 mm
NT2
Endostar NT2 Niti Two Rotary System
Refill, 15/02, 6 pcs., 23 mm
NT2150223
Refill, 15/02, 6 pcs., 25 mm
NT2150225
Refill, 20/02, 6 pcs., 23 mm
NT2200223
Refill, 20/02, 6 pcs., 25 mm
NT2200225
Refill, 25/02, 6 pcs., 23 mm
NT2250223
Refill, 25/02, 6 pcs., 25 mm
NT2250225
Refill, 30/02, 6 pcs., 23 mm
NT2300223
Refill, 30/02, 6 pcs., 25 mm
NT2300225
Refill, 35/02, 6 pcs., 23 mm
NT2350223
Refill, 35/02, 6 pcs., 25 mm
NT2350225
Refill, 40/02, 6 pcs., 23 mm
NT2400223
Refill, 40/02, 6 pcs., 25 mm
NT2400225