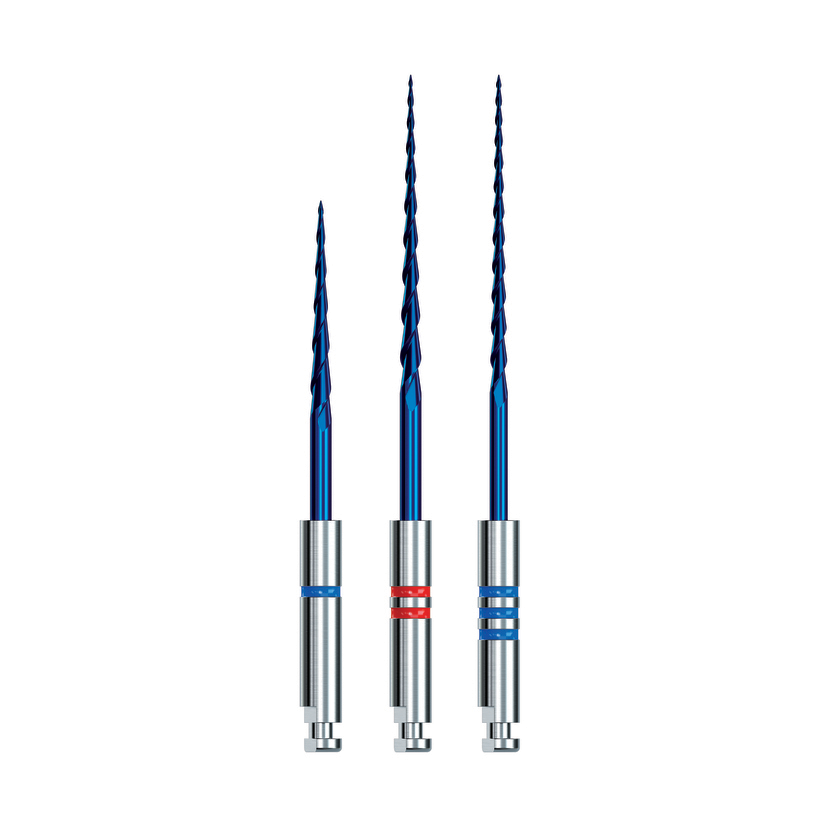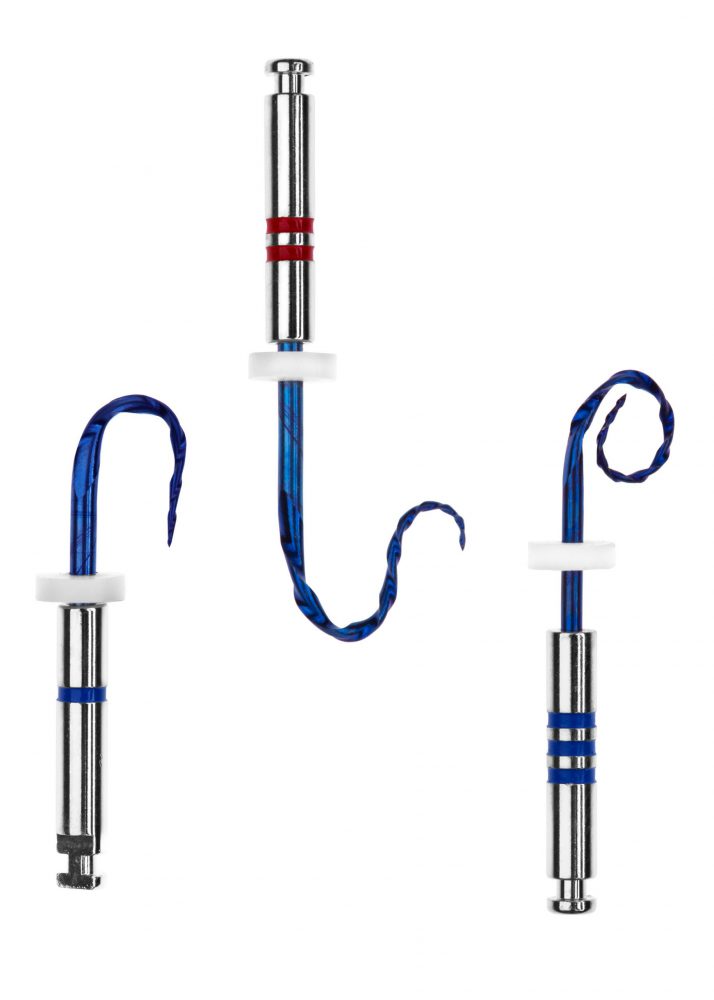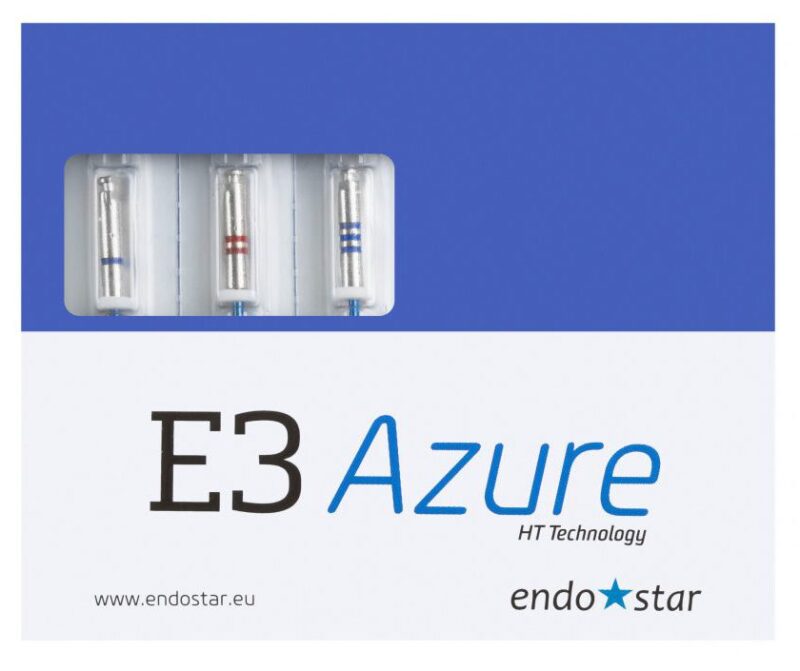 Endostar E3 Azure Basic
An innovative system created with Azure HT Technology
Endostar E3 Azure is an innovative system created with Azure HT Technology which is our specially designed heat-treatment manufacturing process. The goal of Azure HT Technology was to create files that are extremely flexible and resistant to breaking even in the most complicated clinical cases.
Safe - increased breaking resistance
Extremely flexible - follows even the most curved canal path
Effective and easy to use

Color of power.
The Azure HT Technology process modifies the crystal structure of the nickel-titanium files. It allows for the martensite to austenite transformation to occur at near body temperature. This process completely changes the properties of the files. The files can pre-bent before being inserted into the canal. They can easily follow even the most curved canal path, with a minimal risk of perforation, ledges or via falsa.
Feel the significant difference.
New and unique.
During root canal treatment (at near body temperature) the file uses the advantages, both of the martensite and austenite phases.
Martensite
more flexibility
can be pre-bent
greater resistance to breaking
Austenite
super elasticity
high and effective cutting ability
resistant to twisting forces
Flexibility
Increased flexibility thanks to Azure HT Technology*
*Internal tests according to ISO product standards.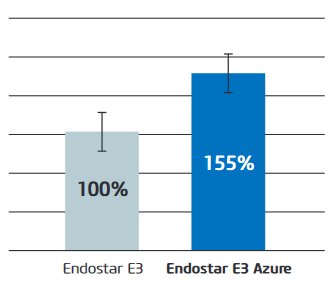 Resistance
Increased resistance to twisting forces compared to standard rotary instruments.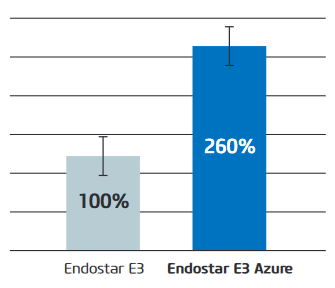 Do it your way
We aimed at designing a new user-friendly system, which would be flexible, efficient and safe. We had no intention to change doctor's habits. Endostar E3 Azure was designed for 3 common types of the motion to achieve a perfect root canal preparation. The system is compatible with most of the handpieces.

Rotary motion
The instruments rotate clockwise and with a set speed (CW - clock wise).

Reciprocal motion
The instruments perform alternating clockwise (CW) and counter Clockwise (CCW) movements; the angle of clockwise (CW) rotation must be larger than counterclockwise rotation (CCW) e.g. 90 degrees CW and 30 degrees CCW.

Complex motion
Combines the rotary and reciprocal motion. The files rotate until too high resistance in the canal is met. Then the reciprocal mode is activated (CW - CCW, net CW). Rotation mode is turned on again when the resistance returns to acceptable level. An example of complex motion is the OTR mode available in the Endostar Provider endomotor.
Endostar E3 Azure Basic – instruction of use
Prepare the cavity. Use a rubber dam.
Locate all canal orifices. Lubricate the canals.
Specify the working length of the canal using your method of choice.
Continue to shape the root canal with hand files up to size 20. This way, you will create a glide path for rotary instruments instruments. This will also reduce the risk of breaking the rotary file.
Shape the canal orifice with the Endostar E3 Azure Basic File No. 1 (08/30) until you reach a maximum of 1/2 of the total canal depth. Do not use this file when the canal is highly curved (in such cases use the Endostar E3 Azure Small ).
Begin to work with file No. 2 (06/25). Perform up-and-down movements. Shape the canal up to 2/3 of the working length. Inspect the working length with the size 15 hand file and apex locator. Next, insert file No. 2 at full working length.
Use file No. 3 (04/30) to widen the apical portion of the canal until full working length is reached. Confirm that full working length was reached with hand file size 15 and apex locator. Next, finish work with a nickel-titanium hand file size 30. Check if the file can be inserted at full working length without obstructions, and if wedging can be felt. If a wider preparation of the apex is needed, continue to work with larger hand instruments size 35, 40 etc. or consider using the Endostar E3 Azure Big.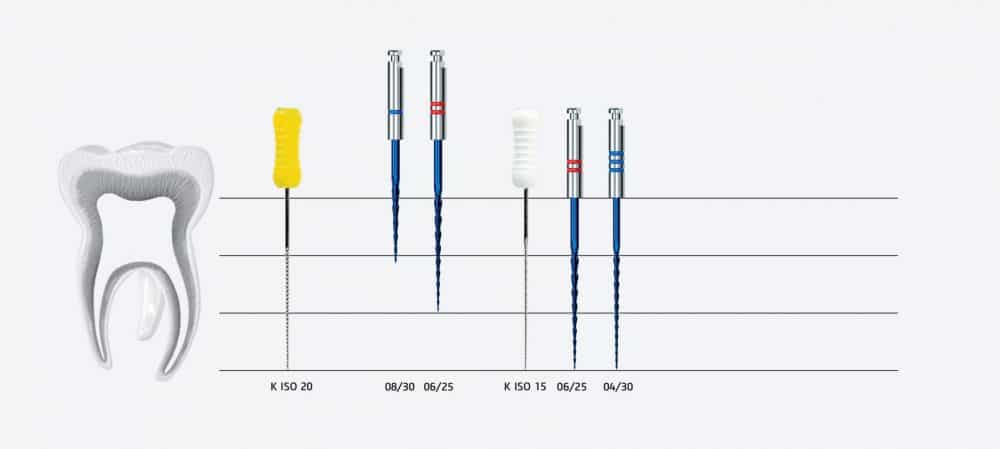 Azure HT Technology
An innovative system created in a new heat treatment technology. The goal of Azure HT Technology was to create extremely flexible files, and at the same time very resistant to breakage even in complex clinical cases.

Sterilization
Autoclave in 134 degrees. Recommended sterilization time: 3 minutes at 2.1 bar overpressure.


Endostar E3 Azure instruments can be repeatedly sterilized and used, provided that the visual inspection performed by the dentist prior to use shows that the instrument remains undamaged, is not bent, deformed, does not show signs of blade wear and can be securely attached to the handpiece. Particular attention should be paid to the winding (or excessive twisting) of the windings of the file.
The instrument windings should be regularly spread over the entire length of the blade, if in one point of the blade the windings are too close or too far apart (there is no regularity in the windings growth of the unused instrument), this is a sign that the instrument could break in the canal.
Permanent deformations of the instrument, especially bends, which do not have the form of an arc and have a visible break point should be always controlled before re-use.  The heat-treated NiTi alloy allows these instruments to bend in the form of an arc.
In case of doubt, the file can be placed in any environment (fluid, air) at a temperature slightly above 40⁰C for a few seconds, then the blade should be straightened or curved on a very smooth arc. If the file is still deformed, it means it is permanently deformed and could not be use again. After each use, check that the blade is securely placed in the file grip. If the file has been subjected to high torsion force, especially in highly curved canals the instrument should be used only once.
Dispose of file which appears to be defective.
Files in the package may vary slightly in color, and the blades may be slightly arched. These differences do not affect the quality of the product. They are result from the applied heat treatment.

Files should be used with motor speed at 300 rpm.
The torque settings indicated in the table above table are for example only and may vary according to each user preferences and motor capabilities. Do not exceed the upper torque limit which is different for each instrument. If precise torque settings cannot be set, and only manufacturer-specific torque levels are available, be sure to select one that does not exceed the recommended limit.
Instrument
Number of stripes
Taper (%)
ISO
Length
Nr 2
2
06
25
21 / 25 / 29 mm
Nr 3
3
04
30
21 / 25 / 29 mm
Set, 30/08 (18 mm), 25/06, 30/04, 3 pcs, 21 mm
E3AZ21
Set, 30/08 (18 mm), 25/06, 30/04, 3 pcs, 25 mm
E3AZ25
Set, 30/08 (18 mm), 25/06, 30/04, 3 pcs, 29 mm
E3AZ29
Refill, 30/08, 6 pcs., 18 mm
E3AZ300818
Refill, 25/06, 6 pcs, 21 mm
E3AZ250621
Refill, 25/06, 6 pcs, 25 mm
E3AZ250625
Refill, 25/06, 6 pcs, 29 mm
E3AZ250629
Refill, 30/04, 6 pcs, 21 mm
E3AZ300421
Refill, 30/04, 6 pcs, 25 mm
E3AZ300425
Refill, 30/04, 6 pcs, 29 mm
E3AZ300429
Basic & Small set, 6 pcs, 21 mm
E3AZBS21BL
Basic & Small set, 6 pcs, 25 mm
E3AZBS25BL
Basic & Small set, 6 pcs, 29 mm
E3AZBS29BL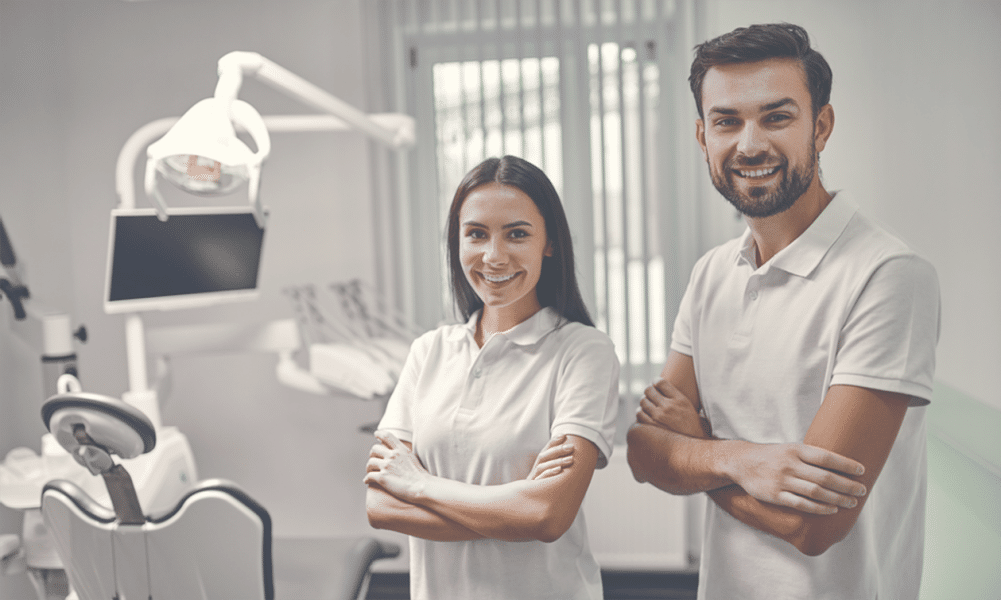 A wide range
of endodontic products
Choose the best solution and meet customer expectations.
Produkty